Brian S. Noguchi, DDS
I feel blessed to be an orthodontist. Using my clinical skills to improve the function of my patients' teeth for the betterment of their overall oral health is satisfying, but what is unbelievably rewarding is seeing what a positive difference an attractive smile can make in a person's life. People smile more, laugh more freely, and experience a boost in self-confidence when they feel good about their smiles. This is why I love what I do.
Why I became an orthodontist…
I completed my general dental education at Loma Linda University, School of Dentistry in 1985, after which I practiced general dentistry and served as a faculty member at the School of Dentistry. I became excited about orthodontics when I witnessed the transformation that took place as I restored the badly neglected smile of one of my first orthodontic patients, Katherine. As I treated her with braces, bridges, and crowns, she started smiling again and taking care of her overall appearance. She got a job outside the home for the first time and worked her way up to an executive position. The confident, polished woman she became looked 20 years younger and was virtually unrecognizable as the patient had I started treatment on. Her words of appreciation hooked me on orthodontics. I completed my Master of Science degree in orthodontics in 1988 at Loma Linda University.
My personal story…
I was born and raised in Nagano, Japan, but always wanted to come to the US for a higher education. While in dental school in the Inland Empire, I started visiting the South Bay to buy Japanese food, which was unavailable inland, and fell in love with this area. I changed my original plan of returning to Japan to practice and instead moved to Torrance in 1990. Later, I became a naturalized citizen. The South Bay, with its unique blend of cultures, is where my wife Margaret and I truly feel at home. This has been a wonderful place to raise our great kids, Alex and Erika.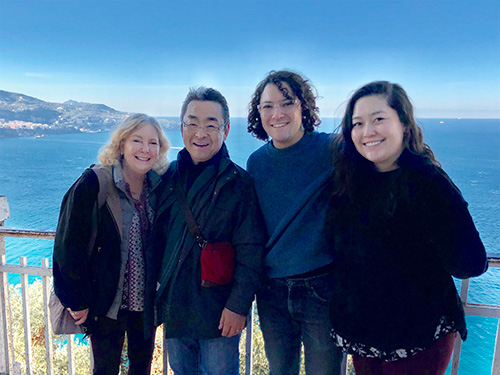 Continuing Education
By regularly participating in continuing education, I am able to stay current on the latest knowledge, technology, and techniques in orthodontics. My patients deserve the best, and continuing education allows me to provide my patients with more options and better results.
A commitment to the community...
I feel that it is a privilege to live and work in such a wonderful community. I enjoy getting to know my patients and their families. It is always such an honor to know that I have made a difference in so many of my patients' lives. I couldn't ask for a better job or for a better group of people to be sharing their smiles with me. I look forward to working with you.
Professional Membership