AcceleDent® in Torrance, CA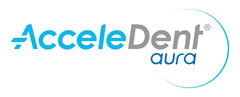 If the thought of spending years in braces seem out of reach, ask Dr. Noguchi about the revolutionary orthodontic acceleration technology of AcceleDent Aura!
AcceleDent Aura is an electronic device designed to stimulate cellular activities around teeth. This allows your teeth to move faster when undergoing orthodontic treatment with traditional fixed braces or Invisalign® clear aligners. Even patients with more complex orthodontic problems benefit from the device.
Using AcceleDent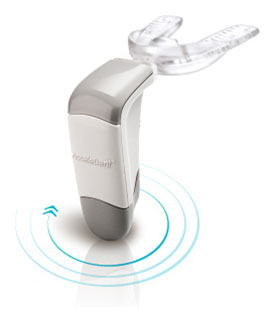 The AcceleDent appliance is easy to use—simply bite down on the tray placed between upper and lower teeth for about 20 minutes every day. The exclusive SoftPulse Technology® vibration stimulates physiological cellular changes in supporting bones around roots, which is needed for proper teeth movements.
It is very important to wear AcceleDent on a regular basis for its maximum effectiveness. It works well when you make it a habit by assigning 20 minutes of "AcceleDent Time" sometime during the day or night.
AcceleDent Aura will make you smile!
Achieve your beautiful, desired smile faster than you ever thought possible!
Since AcceleDent can be used with Invisalign, you can accelerate your orthodontic experience without sacrificing aesthetics.
AcceleDent is lightweight and comfortable. You may even forget you're using it!
AcceleDent can be used for patients of all ages, including children, teens, and adults.
Is AcceleDent® right for you?
While every patient responds differently to this type of treatments, design features of AcceleDent make it easy and effective for everyone. To learn more about AcceleDent and all the orthodontic treatments available at Noguchi Orthodontics, please schedule an appointment at our Torrance, CA orthodontic office.